Castle Sinclair Girnigoe, 1 June 2006
Castle Sinclair Girnigoe; see also this story in the John O'Groat Journal.

The castle literature claims the site was held by the Sinclair family since at least 1379, which means the castle was probably begun by Henry Sinclair (c. 1345 - c. 1400) 1st Earl of Orkney.

Some of the walls and early buildings were built by William Sinclair (c. 1455 - 1513), 2nd Earl of Caithness, who made it his seat after 1468 and who died at Flodden.

The high gatehouse and tower house were built by Wicked Earl George Sinclair, the 5th Sinclair Earl of Caithness, in the late 16th and early 17th centuries.

For tours from small to large, we (jsq & Gretchen) recommend James Campbell of Explore and Discover Tours.
Girnigoe from Noss Head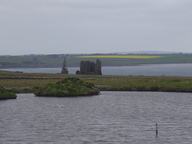 , with seagull
Tower House (Girnigoe Castle)

Tower House (Castle Girnigoe; 15th or 17th cent.)

Tower House with goe (arm of sea)

Goe 2
Gate Keep (Castle Sinclair)

Gate Keep (Castle Sinclair; 14th cent.?)

Gate Keep 2

Gate Keep 3
Going in

Entry bridge

No access beyond this point.

Ian says come right in.

Elsie says no problem.
Inside the Gate Keep

Across the bay

Sea stack

Scaffolding

Walls or midden

Across the bay 2
Rooms

A room

Hole in wall

Small arch
Walls

Ian explaining plans to pull that wall more upright

Down to the slate

Narrow way
More walls

Ian pointing out wall joins

Nice smooth walls

With seagull

Different types of construction

The original floor
Dirty dog

Who, me?

Let dirty dogs lie

standing
Into the Tower House

Not that way!

Nice arch

Window slit

Downwards
Inside the Tower House

James and the arches

Windows

At least three stories aboveground, maybe more

Arch over nothing, and circle in wall

Narrow air
More Tower House

It's green out there

Light source

Center marker for arch drawing
Harold

Ian instructing Peggy to look in the corner

I don't see anything

Writing?
Into the Well Room

Down into the well room

Down to the right

Vertigo

Construction details
In the Well Room

Large stone

With writing

The only light

Robert Henderson 1861
More Well Room

Wall?

Ian lights the well

Corner

Steps?
Back upstairs

Chimney?

Chimney 2?

Out back

Fence on mainland
Peninsula

Noss Head Lighthouse from Castle Sinclair Girnigoe

Peaked roof with newer superstructure

Tower House 1

Quarry

Goe and Noss Head Lighthouse 2
The Sea Gate

Sea Gate arch

Ian and the sea gate

Ian explains to the lineup
Going out

Way out

Right this way

Yes, this way

Ian explaining layers of construction
Back through the Gate Keep arch

Gate Keep arch shoring

Ian explaining inside the arch

We can replace this new stuff with material from the stacks

Ian leads the way out
Back across the bridge

Ackergill Tower in the distance; you can rent it for only a few thousand a day

Castle history
Outside the fence

The castle

Outer castle wall

Castle

Castle and field gate

Noss Head Lighthouse, sheep, bird
---
Last changed: $Date: 2006/07/14 05:30:14 $