Prince Henry Sinclair Society of North America
Monument
From: PrinceHSSP@aol.com (D'Elayne Coleman)
Date: Sat, 19 Jun 1999 12:09:40 -0500 (CDT)

The only monument to commemorate the landing of the Prince Henry Sinclair Expedition in 1398 to Nova Scotia, Canada was erected November 17, 1996 by the Prince Henry Sinclair Society of North America, Inc. It is a fifteen-ton granite boulder with a black granite narrative plaque located at Halfway Cove on Rt. 16 in Guysborough County, Nova Scotia, above the original landing site.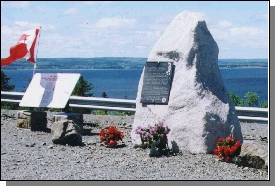 The monument is in a scenic pinic area with interpretive panels and offers a panoramic view of Chedebucto Bay.

The replica viking ship that you refered to as a monument is actually a memorial erected by Clan Sinclair and has nothing to do with the Prince Henry Sinclair Society.
Sincerely,
D'Elayne Coleman
President of the Prince Henry Sinclair Society
For further information, call (902)533 4016

The Society continues all scholarly research on the history of the expedition.

This society celebrates the visit of Prince Henry Sinclair from Orkney to America in 1398.

It has a newsletter, which is included in the Society's $5 Annual Membership Fee.

Contact:
Neil St. Clair
Treasurer of PHSS
19 Soley Cove Road
Lower Economy, NS B0M 1J0
Canada
+1-902-647-2665

---
Last changed: 99/11/21 14:38:29